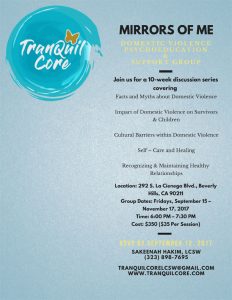 Our Domestic Violence Psychoeducation Support Group includes a combination of psychoeducation, narrative therapy, and art expression. The group provides a non-judgmental environment that will permit group members to share their experiences in a safe place. The group allows members to empower one another to live healthy and successful lifestyles without being hindered from their previous domestic violence experiences. This group aids in building confidence, promoting growth, instilling self-sufficiency, and producing new friendships among members.
The discussion sessions include topics such as, but not limited to:
Facts & myths about domestic violence
Impact of domestic violence on survivors and children
Cultural barriers within domestic violence
Self-care and Healing
Recognizing and maintaining healthy relationships
*Domestic Violence Groups are closed group sessions that meet on a weekly basis during a 10 week series. Contact us for more information and to register for the next support group.